Professional Speaker & Writer
Cara Wilson-Granat is a professional speaker and writer/author located in San Diego, California.
Do you want Cara to speak at your event? Check availability »
She has been a copywriter (TV, radio, print) for award-winning accounts in Los Angeles, Monterey and Sacramento and has created major advertising and public relations campaigns for clients such as The Tropicana Hotel, L.A. County Fair, Hilton Hotels, Princess Cruises, Tibor Rudas Organization (Superstar Theater), Monterey Museum of Art, CTB/McGraw-Hill and many others in the health, education, art, business, technical, family, retail, building, hospitality, entertainment and non-profit fields.
Current Books & Services
Cara has a a lot of of inspiring "words" to offer, which will hopefully help you make positive choices every moment. She is here to help you learn about and love and your life!
She has unique books to offer, speaking opportunities to help make your event more powerful (see her event list), and distinct articles and blogs which feature her own commentary plus that of many others she knows you'll enjoy "meeting"… and with her husband, Pete, even performs a classic play that's a timeless crowd-pleaser, "Love Letters".
So, please don't hesitate to contact her. Cara would love to hear from you and look forward to the time when Words From Cara will be exactly the words that will make you smile!
Strength from Tragedy – Now Available!
HERE AT LAST: For Teachers, Historians, Students of Anne Frank, Otto Frank, World War II, the Holocaust, the Sixties & Seventies.
This is the book educators and families have been requesting! Strength From Tragedy keeps alive the legacy of Otto Frank reflecting his tremendous impact not only on Cara, but of an entire global audience who reached out to him for guidance and hope.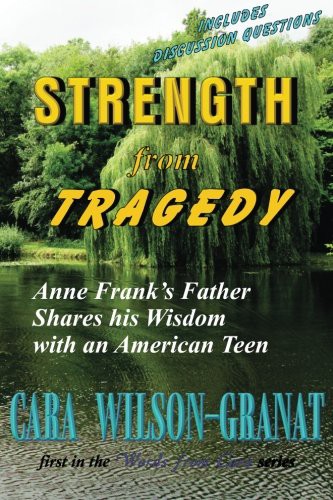 Testimonials
The Diary of Anne Frank is one of the most moving stories ever known to man. Cara Wilson-Granat began corresponding with Anne's father, Otto Frank, when she was just twelve years old; and thus began a warm relationship of many years that culminated with Cara meeting Otto in person, shortly before his death in 1980 at the age of 91. This relationship enabled Cara to develop a unique insight into this historic family that ultimately resulted in her book Strength from Tragedy, the story of how Otto Frank survived the loss of his wife and two daughters in concentration camps. He was a remarkable man and Strength from Tragedy is a remarkable book. Cara recently spoke to my Rotary Club and told the story of her relationship with Otto, leaving Club members spellbound. I highly recommend her book, and if you ever have a chance to hear Cara speak, go for it.

William K. Tierney
Miramar Semper Fidelis Rotary Club
San Diego, CA
Thank you so much for joining us yesterday. You did such a beautiful job of taking us from the rise of Nazism to your personal relationship with Otto Frank. It was a very moving presentation filled with pathos, sadness and hope. Hopefully your message resonates with other audiences as it did with ours. Shalom!
~ James R. Kaspar, JRK Images
Your presentation on Anne Frank to our Rotary Club today was enthusiastically received. Several members told me after the meeting how much they enjoyed hearing your story and told me both how much they appreciated your message and how professional you are in delivering it. We wholeheartedly recommend your presentation.
~ Charley Crew, Rotary Club of Rancho Bernardo, CA
Thank you for your heartfelt presentation and talk about Otto Frank. You manage to take many years of history and condense the information, while not losing the impact and sorrow of our history. I was thinking that I would have liked for my grandchildren to hear this. We have some teens in the congregation who also should hear this. Your presentation was different than just reading a history book. Shalom.
~ Arlene LaGary – President, Temple Beth Shalom, Chula Vista, CA
Read your book – Dear Cara: Letters From Otto Frank (now Strength from Tragedy) – it was wonderful, inspiring, warm and extremely well-written. Thank you for giving this book to the world and continuing to spread Anne Frank's word. I'm sure Otto is watching over you.
~ E. Nissenson (recent attendee of Shoshonah Hadassah, Temecula, CA)
I have been thinking about you all day. I started your book when I returned home yesterday, No wonder why Frank was so interested in corresponding with you, you had the intelligence and insight of a person beyond your years, much like Anne. I must say our Hadassah women have never been so attentive, usually there are some conversations going on, you had this group mesmerized. I was so happy you did well selling books, no one had to be pushed, they were buying multiple copies for their children and grandchildren. I am going to promote you to the other groups, we have a presidents' meeting once a month, and I will certainly promote what has been the best speaker to date.
~ Madeline Goodman, Hadassah President, Galilee Group,
San Diego, CA
It was my great pleasure to be a part of it, Cara. It was the message that attracted exactly everyone who was supposed to be there that night. Including me . . . Often when people invite a discussion of books or films concerning this subject, especially Anne's family, I have to opt out, saying I am still traumatized for having to have read it in high school. Your kind note feels like it brought a bit of closure for me around that, that in some small way I feel Anne and I touched over the span of years . . . . and tears . . . and I feel her whispering that everything is all right. Thank you for your gift, and bless you in your work. I will certainly keep my mind and ears open for other venues for you.
In peace,
Sharon Thomerson, Branch Manager, University Community Branch, San Diego Public Library