Speaking Events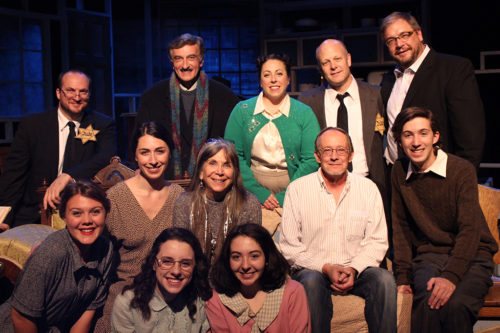 Would you like Cara to tell the Story-Behind-the-Story after your performance of The Diary of Anne Frank? Audiences are loving her historical perspective along with hearing about her long and loving friendship and correspondence with Otto Frank addressed right after each show. Check availability »
"Dear Cara, WOW!!! What an impactful "meeting" yesterday! I knew in my heart that you would be just as you were! Beautiful inside and out! I love how God orchestrates our lives so that we can have those 'aha moments.' Thank you for your super kind words!"
~ Tamera Krause, Services Director, Parker Rotary Club of Cherry Creek Valley, CO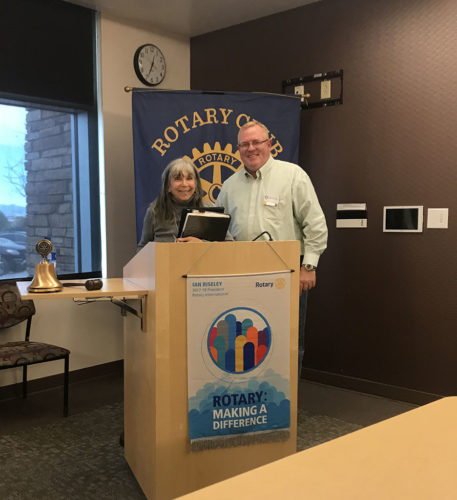 "Thanks again for your time and commitment to our production and outreach opportunity. We are honored to have worked with you and do hope to work with you in the future to continue such a poignant message to our community. Thanks again for everything! It has been wonderful to meet and speak with you over the last several weeks."
~ Kirstin Fletcher, Parker Arts
I began writing to the father of Anne Frank when I was 12 years old in the San Fernando Valley, California after I had been chosen by a talent scout to audition for the movie, The Diary of Anne Frank. Our correspondence and profound friendship extended well over 18 years when Otto Frank and I finally met in person in Basel, Switzerland where he lived. Our unique relationship became the foundation for much of the perspective I have to this day and is documented in my book, Strength from Tragedy.
"Cara is an amazing storyteller, taking us on a journey through Otto Frank's eyes. Her insight about the Holocaust, the meeting of Otto Frank and understanding better Otto Frank's relationship with his daughter, Anne Frank, is powerful, and makes us appreciate the situation on a much deeper level. I highly recommend Cara as a storyteller and guest speaker. I can't wait to start to read her book! Thanks Cara!"
~ Jodi Waterhouse, MHA, Director, Business and Community Engagement, University of San Diego
Each of my books and talks carry a theme of the gifts that this extraordinary Holocaust survivor gave me and others worldwide: tenacity and hope in the face of life's unending challenges. No matter what, we must never give up.
"Cara, thank you so much for spending your time with us last Friday. The students really enjoyed your Stories presentation, and they couldn't express enough appreciation for the follow-up workshops. They felt that personal time was very impactful, so thank you again for your flexibility in staying for the whole day. One of our students mentioned that she went to your workshop all three times because she was so moved by your story and just loved your warmth and compassion. Thank you again for your support and willingness to share your wisdom and experiences with our community. We're getting back on the right track."
~ Best, Leah Arvanitis
Dean of Students, Boulder Preparatory High School
Check Cara's Availability
Please fill out the form below to make an inquiry. A 50% deposit is required to reserve the date with the balance due on the day of the event. Special considerations may be made for non-profit organizations.
The brief excerpts of a talk I gave at the L.A. Museum of the Holocaust may be viewed here below. They are pieces of the one-hour presentation in which I first discuss Anne Frank and those with her in hiding, allowing audiences to know a more behind-the-scenes portrayal of the gifted young teenager, her family and courageous helpers — from the time in hiding, to the betrayal and capture, and finally to the discovery and publication of her Diary. I want people to know her and especially her remarkable father in a more personal way. The few video clips below feature more of my connection with Otto later after the Diary was first published in America and when our friendship began.
Guest Speaker at Rancho Bernardo Rotary Club, February 2016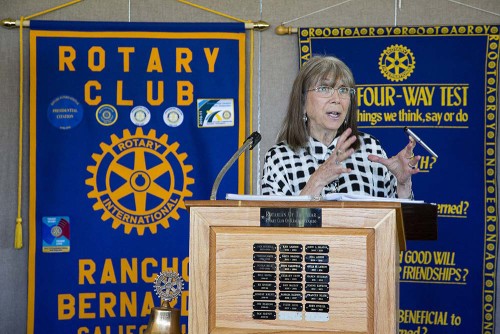 Thank you so much for joining us yesterday. You did such a beautiful job of taking us from the rise of Nazism to your personal relationship with Otto Frank. It was a very moving presentation filled with pathos, sadness and hope. Hopefully your message resonates with other audiences as it did with ours. Shalom!
~ James R. Kaspar, JRK Images
Fear and Love (1:38)
Letters to Otto (1:19)
Never Give Up Hope (1:13)
The Betrayal (1:08)
I invite you to check out my books and explore the topics that I discuss with groups of all ages:
Finding and planting hope in the midst of hopelessness
Making positive daily choices
Choosing between fear and love
Using adversity to grow and learn (book: It Takes A Lot Of Sh*t To Make A Garden Grow)
Letting Mother Nature guide us back to ourselves (book: Nature Teachers)
The victory of validation
We are all one — the power of discovering our distinctions and similarities
Workshops
Nature Teacher Workshops
In addition to my Nature Teacher talks, I offer separate workshops in which I explore the lessons of each teacher in the book: The Stone and the Ripple Effect; The Pearl; The Rock and the Wave; The Otter; The Spider; The River. I'll also be inviting guests to provide their perspective on many of the challenges we're learning to deal with – everything from financial challenges to those involving weight loss, grief, relationships, and many more.
Testimonials
"Cara….what can I say? You inspired me to continue to see the good in people, in life, in experiences. Thank you so much for speaking at my Rotary Club. I will recommend you with enthusiasm!"
Irene Bauer, Escondido East Rotary Club
Escondido, CA
"Cara's talk was moving and inspirational. She is a dynamic speaker with a fascinating story to tell, one that gives you an inside view of one of history's most beloved Holocaust figures. The audience was captivated by Cara's story-telling. You will not want to miss this incredible speaker."
Los Angeles Museum of the Holocaust
"Cara Wilson-Granat has the rare gift as a a public speaker to be able to engage the audience beyond the moment, inspiring people to further thinking and to continue the conversation long after the event. The Monterey Institute of International Studies was honored to invite Cara to speak at two separate events in November 2012. Her warmth, intelligence and humor sprinkled with self effacing wit worked as well at a small gathering of women as it did at a lecture in a large public auditorium. Cara is a wonderful person to work with and to know and I wholeheartedly recommend her a public speaker."
Eva Gudbergsdottir
Associate Director of Communications, Monterey Institute of International Studies, a graduate school of Middlebury College
"Cara helped us see the world through Otto Frank's eyes. As he was a survivor of the Holocaust, we would expect him to see only the tragic in life, to be bitter and depressed. Rather, the lesson that he chose to take from his experience was that nothing is more important than the bonds one person forms with another."
B'nai Israel
Davis, CA
"Our school was most fortunate to meet you. On a personal level, I am so thrilled to have met you. You are such a beautiful spirit and I felt such a connection with you immediately! The kids and the teachers loved the presentation and I'm so thankful to you for your generosity. Opening their eyes to such potential; being able to see the positive in such devastation is a tremendous lesson for our teenagers and pre-teens. I'm looking forward to reading your book. By the afternoon, the librarian told me that 3 kids came and asked for your book! Again, thank you Cara for a most inspirational presentation and an opportunity to meet you. We just loved you!!"
Susan Levy, Principal
Pershing Middle School
"From the bottom of my heart, THANK YOU for making such a wonderful presentation to our students and truly making a difference. You could tell, as the students sat in rapt attention, the impact your words were having. Of course, you will be hearing from many."
Kathleen Obrist, Teacher
Montgomery HS, CA
"I express my sincere appreciation to you for helping the Assistance League of Sacramento Authors' Day first event, May 14, 2011, get off the ground running. As the first speaker you had the audience spellbound and you set the tone of caring and empathy for the day. Your strong and beautiful voice and elegant style of speaking was powerful. I really enjoyed getting to know you. Thanks for being such a vital part of the day."
Lynn Ossolinski, Coordinator of Authors
Assistance League of Sacramento, CA
AssistanceLeague.org
"Thank you, Cara, for the amazing program you presented at our congregation for Kristallnacht. You were inspiring and informative and left everyone with such a sense of hope about our possibilities to make a difference. People are still talking about your visit."
Rabbi Greg Wolfe
Congregation Bet Haverim, Davis, CA
"Cara Wilson-Granat is a dynamic speaker. She had us crying and laughing simultaneously – and ultimately so moved by her message of hope that we all felt inspired long after her talk. I have heard Cara address large groups and small – from intimate luncheons to larger gatherings and she makes you feel like she is speaking directly to each person individually. We need to hear the message of hope and making positive choices and realizing our own power and impact in the world, now more than ever; and Cara helps us do just that. You are in for a great time, believe me."
Gin Weathers
Weathers Real Estate & Relocation
Carmel, CA
"Most people have heard of or read the Diary of Anne Frank. Cara Wilson-Granat actually knew and corresponded with Anne's father, Otto. She has written a book about the life lessons she learned from Otto. I consider it a historical treasure. It is necessary read. She now is taking her stories on the road for all to hear. It is amazing to think that we have someone who is alive and able to share personal details about someone who lived through probably the most horrific period in Modern History. What makes her story important is how Otto handled the personal tragedy and what we can learn as a society from his courage. Cara is determined to keep Otto's and Anne Frank's memories alive. Our society today needs her message more than ever. She passionately talks about truth, the human ability to survive, and forgiveness. It is a fun full hour of personal life lessons, tears and joy. I highly recommend booking Cara for your next available speaking engagement, and guarantee your audience will not be disappointed."
Jeffrey Paul Gardenhire
Employee Benefits Consultant
CA Lic. 0648142
"Thank you so much for coming to my home last night to listen to Cara speak. Words cannot begin to convey how inspired I was by Cara's speaking. She truly spoke from the heart, and it was wonderful to witness how she touched each one of us with her story. No matter the subject, the message always seems to be the same – regardless how daunting the story or the seemingly insurmountable obstacles, it is in making the repeated "choice" to find love, hope and the connectedness to community that keeps the flame of life and love enduring through time."
Blessings, Lisa W.
Granite Bay, CA