Strength from Tragedy
HERE AT LAST: For Teachers, Historians, Students of Anne Frank, Otto Frank, World War II, the Holocaust, the Sixties & Seventies.
This is the book educators and families have been requesting! Strength From Tragedy keeps alive the legacy of Otto Frank reflecting his tremendous impact not only on Cara, but of an entire global audience who reached out to him for guidance and hope.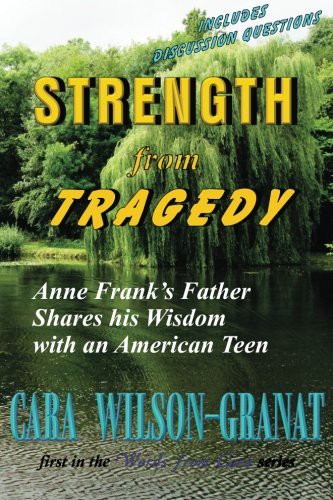 A long time friend of Otto Frank, the father of Anne Frank, Cara shares the wisdom and insights of his experiences through this memorable book, Strength from Tragedy.
A Jewish teenager from the San Fernando Valley, California, Cara first began writing to Otto Frank after being greatly moved by his daughter's The Diary of Anne Frank in the late 1950s. The correspondence continued over two decades through Cara's collection of touching notes between both Otto and herself. Dear Cara chronicles their relationship evolving from a mentorship to a connection between kindred spirits empathetically in search of human understanding.
The book has become the personalized legacy of Otto Frank, who requested Cara and his international adopted "family" of supporters continue spreading his message around the world. To fulfill that wish, Cara presents his inspirational words through the book which is designed to bring hope to a new generation through a unique historical perspective.
Applicable to all ages, races, cultures, and religions, the lessons in tolerance, positive choices, validation, and acceptance are timely and relevant to all walks of life.
Readers form their own intimate connection to the Holocaust as Cara brings history alive for them, ensuring the Frank family's tragedy is not forgotten but inspires intercultural healing, learning and compassion to preserve the legacy of Otto Frank for generations to come.
In keeping alive the wishes of Otto Frank& to me, "If the end of the world would be imminent you still must plant a tree today," for every book you purchase $1.00 goes to One Tree Planted! THANK YOU!
NOTE: Cara gives talks on her books. If interested, please get in touch.
This buoyant book changed my life! Cara Wilson, Otto Frank, Anne Frank, and everyone became my family members as each page passed. I felt myself adopting each of them because of the authentic connection between us all. The real and raw communication exchanged between Cara and Otto (father of Anne Frank) secured a sense of vulnerability and humility that I deeply identified with as a young girl developing into womanhood. I could relate to the social, psychological…, physiological, emotional, political, and spiritual journey through history. Their concern and articulation of the issues their societies faced proves history repeats itself when people do not to learn from the past.

These international pen pals adopted each other in a grandparent-like relationship. What transpires over decades is the most fascinating story of courage, wisdom, strength, and love. The compassion, fortitude, and guidance of Otto provided Cara and the world a role model to adore, propelling us all to a future of enlightenment and humanity. He provides clarity amidst chaos. He elevates us to a higher consciousness when the world seems to be going mad.

Otto's vision for the Anne Frank Foundation combined with his hope to amplify his daughter's legacy, lead the youth to a brighter tomorrow. Cara's relentless spirit matched Anne's tenacious vigor, which I am sure provided Otto comfort and familiarity all those years. Each of them share a deep adoration to experience a more peaceful world.

Survivors of all kinds can find healing in Otto's words as the sole Holocaust survivor in his immediate family. I am grateful Cara documented his advice in response to actual events, tragedies, and personal moments of growth. Who better to learn from as he overcame the depression of losing his wife and daughters in a concentration camp toward the end of Hitler's reign?

What did I get from this book? Be the change. Be yourself. Be brave. Be adaptable. Be practical. Be adventurous. Believe. Parents need to learn their children and know them before it is too late. Be thankful for your freedom and the ability to seek any kind of life you desire. Embrace your spirituality, whether you are Jewish, Catholic, Christian, Pantheist, or any other belief. Live and love fully. Do not let tragedy stop you from planting trees.

As I finished this read last night on my flight back home from launching a national non-profit organization, called UpLift US, helping homeless survivors and beyond, I gained the confidence to push forward and accept all challenges and successes in this Movement of Kindness. I was also inspired to reach out to a personal heroine of mine. Fingers crossed I get a response. However, if I do not, I will be proud of my "cake of courage". Luckily, I have already connected with another heroine of mine, Cara Wilson Granat. – by Shannon Kern, UpLift US Co-Founder
The Diary of Anne Frank is one of the most moving stories ever known to man. Cara Wilson-Granat began corresponding with Anne's father, Otto Frank, when she was just twelve years old; and thus began a warm relationship of many years that culminated with Cara meeting Otto in person, shortly before his death in 1980 at the age of 91. This relationship enabled Cara to develop a unique insight into this historic family that ultimately resulted in her book Strength from Tragedy, the story of how Otto Frank survived the loss of his wife and two daughters in concentration camps. He was a remarkable man and Strength from Tragedy is a remarkable book. Cara recently spoke to my Rotary Club and told the story of her relationship with Otto, leaving Club members spellbound. I highly recommend her book, and if you ever have a chance to hear Cara speak, go for it.

William K. Tierney
Miramar Semper Fidelis Rotary Club
San Diego, CA
Thank you so much for joining us yesterday. You did such a beautiful job of taking us from the rise of Nazism to your personal relationship with Otto Frank. It was a very moving presentation filled with pathos, sadness and hope. Hopefully your message resonates with other audiences as it did with ours. Shalom!
~ James R. Kaspar, JRK Images
Your presentation on Anne Frank to our Rotary Club today was enthusiastically received. Several members told me after the meeting how much they enjoyed hearing your story and told me both how much they appreciated your message and how professional you are in delivering it. We wholeheartedly recommend your presentation.
~ Charley Crew, Rotary Club of Rancho Bernardo, CA
Thank you for your heartfelt presentation and talk about Otto Frank. You manage to take many years of history and condense the information, while not losing the impact and sorrow of our history. I was thinking that I would have liked for my grandchildren to hear this. We have some teens in the congregation who also should hear this. Your presentation was different than just reading a history book.
~ Shalom, Arlene LaGary – President, Temple Beth Shalom, Chula Vista, CA
Our school was most fortunate to meet you. On a personal level, I am so thrilled to have met you. You are such a beautiful spirit and I felt such a connection with you immediately! The kids and the teachers loved the presentation and I'm so thankful to you for your generosity. Opening their eyes to such potential; being able to see the positive in such devastation is a tremendous lesson for our teenagers and pre-teens. I'm looking forward to reading your book. By the afternoon, the librarian told me that 3 kids came and asked for your book! Again, thank you Cara for a most inspirational presentation and an opportunity to meet you. We just loved you!!
Susan Levy, Principal
Pershing Middle School
From the bottom of my heart, THANK YOU for making such a wonderful presentation to our students and truly making a difference. You could tell, as the students sat in rapt attention, the impact your words were having. Of course, you will be hearing from many.
Kathleen Obrist, Teacher at Montgomery HS, CA
Read your book – Dear Cara: Letters From Otto Frank – it was wonderful, inspiring, warm and extremely well-written. Thank you for giving this book to the world and continuing to spread Anne Frank's word. I'm sure Otto is watching over you.
~ E. Nissenson (recent attendee of Shoshonah Hadassah, Temecula, CA)
I have been thinking about you all day. I started your book when I returned home yesterday, No wonder why Frank was so interested in corresponding with you, you had the intelligence and insight of a person beyond your years, much like Anne. I must say our Hadassah women have never been so attentive, usually there are some conversations going on, you had this group mesmerized. I was so happy you did well selling books, no one had to be pushed, they were buying multiple copies for their children and grandchildren. I am going to promote you to the other groups, we have a presidents' meeting once a month, and I will certainly promote what has been the best speaker to date.
~ Madeline Goodman, Hadassah President, Galilee Group,
San Diego, CA
It was my great pleasure to be a part of it, Cara. It was the message that attracted exactly everyone who was supposed to be there that night. Including me . . . Often when people invite a discussion of books or films concerning this subject, especially Anne's family, I have to opt out, saying I am still traumatized for having to have read it in high school. Your kind note feels like it brought a bit of closure for me around that, that in some small way I feel Anne and I touched over the span of years . . . . and tears . . . and I feel her whispering that everything is all right. Thank you for your gift, and bless you in your work. I will certainly keep my mind and ears open for other venues for you.
In peace,
Sharon Thomerson, Branch Manager, University Community Branch, San Diego Public Library