"Imagine all the people living life in peace…" Imagine, by John Lennon
My husband and I just returned from a beautiful vacation in Los Cabos, Mexico. It was gifted to us by his company as it was to all the top 2015 sales winners. Though Pete and I are not resort enthusiasts as our idea of a good time is being anywhere in untamed nature that has nothing to do with Piña Coladas and people, we were still grateful for the rare time-out together at the edge of the azure Sea of Cortez.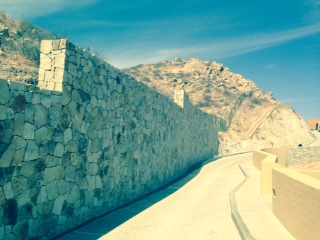 The colors of oceany blues—teals and lapis and cobalt—played with our senses to the point of veritable hypnosis. The fresh sea scents and gentle sounds of waves wherever you inhaled and slumped into a boneless heap of "what-the-hell" and simply gave into the luxury of decadence and beauty—all of it was truly a gift from the gods. And of course, Pete's company.
There were so many images that reverberated for me during that Cabo Paradise but what has stayed with me the most to talk about today is the beauty and grace and warmth of the Mexican people themselves. I've always loved the Latin culture for its kindness, passion, artistry, their love of family and so much more. I couldn't help but notice during my time spent unwinding that these people smile from their soul. In fact, so many of them would greet us with a cheerful, "Ola!" or "Welcome!" and then touch their hearts. It moved me.
I loved their music. Their striking beauty. The way the staff would relate to each other—laughing, speaking in animated conversations, working together as peacefully as the surrounding sea. There were no sharp edges to them. They reflected the cadence of their land. And I knew that life wasn't easy for most of them. It wasn't that long ago that I, too, was a server working along beside these splendid people who made the work—and the inequities of catering to the privileged—so much easier. In Cabo, we discovered that the average salary of most of the workers came to a little over $4.00 an hour. And yet many of them expressed gratitude to be working at the resort even though it was, for many of them far away from their own homes. Continue reading The Wall
Share