For the Classroom
Dear Teachers and Students,
Here is a work-in-progress offering for you with this Discussion Page and additional Chapter to be included with your copy of Strength from Tragedy.
I'm hoping that this will add to some creative discussions and insights. And I do hope that I may be a part of working along with you either in talks and/or workshops or Skyping possibilities.
If you would like me to speak to you in person please don't hesitate to reach out to me and you will be promptly contacted with more details on how we can make this possible!
Thank you so much!
~ Cara
Contact Cara
Please use this form to contact Cara about speaking or anything else that is on your mind – she'd love to hear from you.
The Last Chapter
Our letters continued for two more years until August of 1980, when Otto Frank died. Fritzi wrote me:
Dearest Cara,

Now my darling Otto has left me and all his friends in the world. Though I know that he wanted to die after his long and fulfilled life with the many sad but also happy events, I miss him terribly. I am glad however that you still saw him when he was his own lovable self. Luckily he did not suffer and passed away peacefully…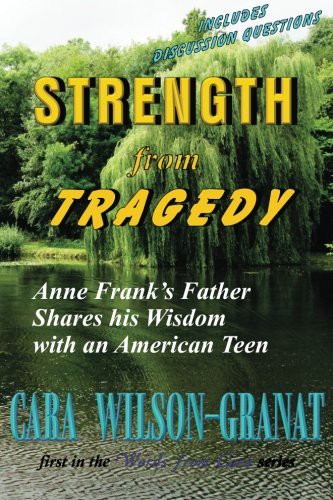 This book was one of the hardest challenges I've had to face. For all my efforts are living in the now, and everything in this work is in the then, where I truly didn't want to go.
It is a book of reminders, of ghosts—of a house in the hills, a marriage, a cozy, secure world that is no longer but has been replaced by an entirely happy, yet completely different scenario. Change, I have come to understand, is an integral part of life. My sons, Ethan and Jesse, are now grown men with wives and children of their own (Jesse with Branda and daughter Autumn; and Ethan with Fabiane and son, Kaio.) I am now "Nana"—a name that suits my soul completely. And though my marriage with Kent ended years ago, we still are good friends; he and his wife, Rosana, and my wonderful husband, Pete, and his grown son, Adam, are now the added elements to a family that have still remained close in spite of the changes.
Download "Love Otto Epilogue" (PDF)
For Discussion
Cara's book presents a variety of themes, below are a just a few themes to guide the discussion with students. Download Discussion Topics (PDF)
Testimonials
From Teachers and Principals
"Cara Wilson-Granat has the rare gift as a a public speaker to be able to engage the audience beyond the moment, inspiring people to further thinking and to continue the conversation long after the event. The Monterey Institute of International Studies was honored to invite Cara to speak at two separate events in November 2012. Her warmth, intelligence and humor sprinkled with self effacing wit worked as well at a small gathering of women as it did at a lecture in a large public auditorium. Cara is a wonderful person to work with and to know and I wholeheartedly recommend her a public speaker."
Eva Gudbergsdottir, Associate Director of Communications
Monterey Institute of International Studies, a graduate school of Middlebury College
"Our school was most fortunate to meet you. On a personal level, I am so thrilled to have met you. You are such a beautiful spirit and I felt such a connection with you immediately! The kids and the teachers loved the presentation and I'm so thankful to you for your generosity. Opening their eyes to such potential; being able to see the positive in such devastation is a tremendous lesson for our teenagers and pre-teens. I'm looking forward to reading your book. By the afternoon, the librarian told me that 3 kids came and asked for your book! Again, thank you Cara for a most inspirational presentation and an opportunity to meet you. We just loved you!!"
Susan Levy, Principal
Pershing Middle School
"From the bottom of my heart, THANK YOU for making such a wonderful presentation to our students and truly making a difference. You could tell, as the students sat in rapt attention, the impact your words were having. Of course, you will be hearing from many."
Kathleen Obrist, Teacher
Montgomery HS, CA
"It was my great pleasure to be a part of it, Cara. It was the message that attracted exactly everyone who was supposed to be there that night. Including me . . . Often when people invite a discussion of books or films concerning this subject, especially Anne's family, I have to opt out, saying I am still traumatized for having to have read it in high school. Your kind note feels like it brought a bit of closure for me around that, that in some small way I feel Anne and I touched over the span of years . . . . and tears . . . and I feel her whispering that everything is all right. Thank you for your gift, and bless you in your work. I will certainly keep my mind and ears open for other venues for you.
In peace."
Sharon Thomerson, Branch Manager
University Community Branch, San Diego Public Library
From Students
"Thank you for spending your time explaining the story of Anne Frank. I could clearly see that you where truly passionate about speaking her story, hearing the story from you. Towards the end you helped me understand that every human has a choice and the choice you choose can make all the difference. The rock that you gracefully gave me I dropped to my fountain in the backyard and as I watched the ripples spread further and further, my choice is to make positive decisions in life and be happy."
A. B. (Montgomery High School)
"…even though I have already read the play, your speech provided another point of view. It also had more in depth details. Another part that I enjoyed was how you explained how anger does not matter. This, in a way, is a way of life. I thank you for that. If I can learn to control those emotions, I believe I will become a kinder person. I appreciate that you took the time out of your day to come teach me about Anne Frank and her father; more importantly I would like to thank you for how you set me on the right path to become a better person…"
L.Q. Pershing Middle School
"I wanted to thank you for visiting and speaking to our class. It was very interesting and to hear you tell Anne's story in detail and your relationship with Otto Frank. I loved what you told us about always having hope in our lives and in our world which is disastrous at times. It was lovely hearing about your visit with Otto Frank. It's crazy to believe that you were actually a good friend of his and his wife. It shows that there really are generous people in the world so when someone does hurt us or makes us feel like there is very little love in this world, we shouldn't be so cynical as to think that everyone is this way because you've proved to me that's not true. I thank you for that because you've changed my view on people. As of the Diary of Anne Frank, it's an amazing book and you did really well bringing the story back to life and your story and advice had an impact on me. Thank you for the little stone; every time I look at it I will be reminded of the hope that you implanted in me…" Sincerely , C. A. (Montgomery High School)
"…your speech was very intriguing, and I appreciate you coming to our school to tell us your story. I thought that your story about Anne Frank and Otto Frank was very vivid. I felt as if I were there also, experiencing what they had. I learned from the message in your speech that fear feeds upon fear, and hope can kill fear. This was very interesting, and it was eye-opening the way that your theme was essentially the theme of the Holocaust and World War II itself. I also appreciated the lessons that you shared from Otto Frank. Those lessons about letting go of anger, and learning hope. I think that message, if remembered, can help me live my life, as it has helped you in yours. I greatly appreciate your efforts, both in spreading the themes that come with it. I appreciate the way you, by telling others your story, can change lives, or how people treat their lives, and for that, I thank you most of all…"
Sincerely, K.C. (Pershing Middle School)