A beautiful spirit my friend, Bonny McGowan passed on Saturday, August 5th, 2017, and I wrote this for her little granddaughter, Saylor. I hope it will help you, too, understand why we love this amazing Bonny so much. Hold each other closer than ever. Life is so ephemeral and fragile and brief.
. . . .
"There will come a time when you believe everything is finished. That will be the beginning."
~Louis L'Amour
Dearest Saylor,
I know that you and I never got to know each other but I certainly know of you. And of course, I knew your amazing grandmother, Bonny. Not for as long as so many of your tribe knew her, but long enough to be transformed by the mystique and stunningly creative and beautiful spirit that she was—and will forever be. She was a wonderful friend.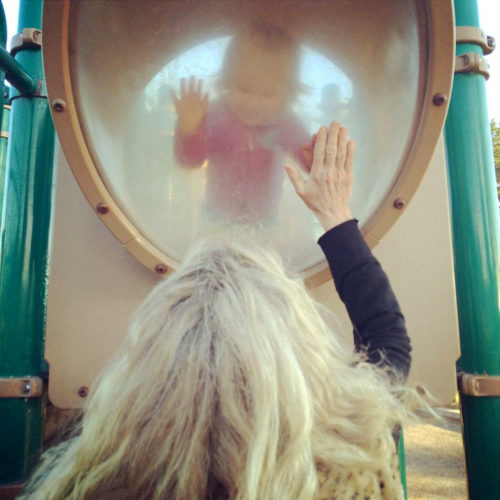 Your beautiful mother and you carry your grandmother's magic and infinite belief in the majesty and power and wisdom of the divine goddess. It never dies. It grows stronger when given the chance to fly its own unique course and traverse life's currents on its own terms, in its own way. That was what your grandmother did. She was very much the "Birdy" your mother called her—alighting on the ordinary and instantly transforming it into extraordinary. She didn't stroll, she practically flew into view, with her scarves and flowy skirts or tight jeans and wild blonde hair and dangly jewelry—gemstones and silver, just the right number of rings and bracelets that made you stop and take notice of her gypsy beauty and style. Her cowboy boots and tango heels. Her passion for music and dance and art and crystals and candles and costumes and Burning Man magic and gardens of flowers and the Bird and Crow that she fed and adored and that great hearty laughter of hers under the moonlight with the best of friends and fighting for the underdog and everyone that needed a lift, a wing to be tucked under, a voice to be heard when they got lost in the crowd. Your grandmother was all that and more.
She was a warrior. An activist. A total original, Bonny was classy and a total head-turner, she reminded me of Cheryl Crow with her sassy sexy quality. Strong-willed and astoundingly creative. And organized in a way that she was able to balance structure and symmetry with design and imagining artistry way outside of the box.
Share