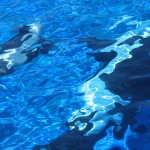 These are a series of ten articles, in which we meet the San Diego 10 orcas and hear from an advocate who continues to be one of the voices of these imprisoned voiceless, never stopping until the whole world listens.
Enjoy.
Age: About 47
Captured: Dec. 11, 1969, in Pender Harbour, British Columbia
Corky, (once known as Shamu) one of the oldest living captive orcas, is one of the most promising candidates for full release to the open ocean because because conservationists know her pod still spends part of the year in Johnstone Strait, off of Vancouver Island.
Age: About 36
Captured off the coast of Iceland, on October 26, 1978, Kasatka was just one year old when torn from her pod. Kasatka, whose name comes from the generic Russian derivative of the word "orca," is 17.7 feet (5.4m) long and weighs 5,950 pounds (2,700 kg.)
Age: About 36
Ulises, the oldest male orca in captivity, and the second largest (the largest being Tilikum, 12k pounds) is also a good candidate for a full return to the ocean. This hefty, Icelandic orca is 19 feet 6 inches (5.94 m), weighing 9,200 pounds (4,200 kg). Easily discernible, one can recognize him as not only being the largest captive whale imprisoned in Sea World San Diego, but he has the tallest dorsal; it stands straight up and droops ever so slightly to the right at the top.
Age: 26
Born on September 23, 1988, during a live Shamu show at Sea World San Diego, Orkid made her debut in front of thousands of spectators. Of course, a natural orca birth in the wild wouldn't be bombarded with the noise and cameras and invasion of such a personal entrance into the world as this baby experienced.
Age: 21
Born on February 2, 1993, at Sea World San Antonio, Keet (his name is Tlingit Indian for "orca") is known for being the grandbaby of Shamu, and also for being one of the most heavily transported orcas in captive history. It's amazing this beautiful orca has such a gentle nature considering how disruptive his entire life has been.
Age: 21
Imagine living in quiet desperation in solitary confinement for 10 YEARS. Pretty horrendous, right? The crime for such enforced aloneness? Nothing more than being held captive by those who considered her merely a source of entertainment and breeding opportunity for them. Nothing else. Just a money commodity. That's Shouka's story–the first orca to be born at Marineland in Antibes, France on February 25, 1993.
Sweet-natured Nakai was born on September 1, 2001. His claim to fame is that he was the very first orca to be conceived through artificial insemination. Not only that. He was born head first, which is extremely rare in most captive orca births. His mother, Kasatka, who lived in California, was impregnated through semen collected from his father, Tilikum, who lives in Florida.
Age: 21
Ikaika (whose name is Hawaiian for "Strength") was born at SeaWorld Orlando on August 25, 2002. His mother is Katina and his father is Tilikum (the featured orca in the movie, Blackfish).
Age: 9
Her name means "Beauty" in Hawaiian, and this lovely nine-year-old orca lives up to her name completely. Born at SeaWorld San Diego on December 21, 2004, her mother is Kasatka and her father is Keet. (Kasatka is featured in #2 of our San Diego 10 series, and Keet is featured in #5 of this series.)
Age: 15 months
Born on Valentine's Day, February 14, 2013, Makani made his debut in Shamu Stadium, SeaWorld San Diego. Guided by his momma and big sister, the baby swam immediately to the surface just seconds after he was born to take his first breath.